March 29, 2018
With UK consumers less likely than their European counterparts to prefer snacking on dairy products, new snack innovations in dairy must find unique ways to market themselves, according to leading data and analytics company GlobalData.
British dairy brand Bio-tiful Dairy has recently launched a unique kefir-quark product as an on-the-go breakfast or snack item in the UK. Kefir and quark are two relatively healthful, but little-known, chilled dairy products. Kefir is a cultured, fermented milk drink which is known to colonize the intestinal tract with billions of naturally occurring probiotics, whereas Quark is a low-fat, mild-tasting cheese product.
The UK market for quark (inclusive of fromage frais, which is another niche dairy product), was less than 10% the size of the UK yogurt market (excluding yogurt drinks) on a volume basis in 2016, according to GlobalData.
Bio-tiful Dairy's gluten-free kefir-quark product is available in a portable pot with its own spoon as an on-the-go snack or meal. Relatively few single-serve dairy products come packaged with a spoon for immediate, on-the-go consumption.
Tom Vierhile, Innovation Insights Director at GlobalData, says: "Novelty-seeking consumers are likely to be intrigued by the unique combination. By offering the product as a packaged snack, Bio-tiful Dairy is a step or two ahead of the game as shoppers unfamiliar with kefir or quark may be unsure how and when to consume them."
Bio-tiful Dairy kefir-quark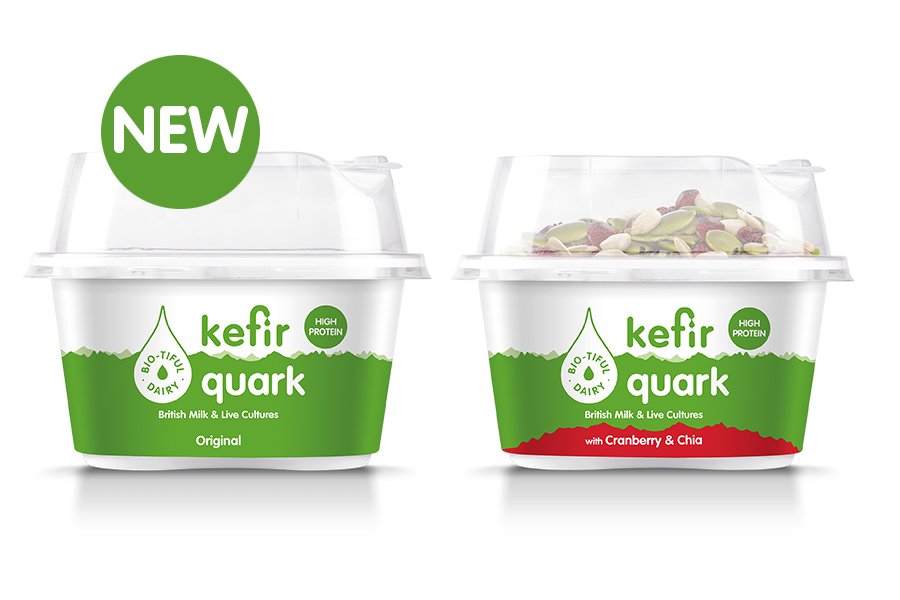 Source: Bio-tiful Dairy Co. Ltd. Twitter page
However, according to GlobalData's 2017 Q4 global consumer survey, just 17% of UK consumers prefer to snack on dairy products, well below the 25% average for Europe overall. UK consumers are much more likely to say they prefer to snack on confectionery products or salted snacks, than dairy products.
This could make Bio-tiful Dairy's job much more challenging.
Vierhile concludes: "Strict EU rules over health claims forced Bio-tiful Dairy to drop a 'better digestion' claim for its products last year, so Kefir-Quark will not enjoy the tailwind that such a claim may have provided. We'll have to see if Brexit leads to looser regulation of health claims in the future.
"The product will benefit from the warm and fuzzy feeling that consumers have for cultured products. But whether UK consumers are ready for dairy snacks that go beyond yogurt or 'regular' cheese remains to be seen."